A Foreign Language Service (AFLS), the renowned name in the business, has launched its new website to showcase its latest services, including SpeakNOW™ Online Remote Audio & Video Interpreting, which offers a cutting-edge advantage to clients.
The company that provides remote audio and video interpreting, professional in-person interpretation, and document translation contract services in more than 400 languages has already built a solid repertoire working with government agencies, healthcare organizations, legal professionals, and schools for over 28 years. Some of its top clients include Banner Health, The Arizona Bar Association, and local government agencies like the City of Phoenix, Scottsdale, Mesa, and many more.
A Foreign Language Service
"We are excited about offering our SpeakNOW™ On-Demand language interpretation via over-the-phone interpretation (OPI), and video-remote interpretation (VRI) service in a cost-effective matter for a multitude of industries. Especially, since the service can be easily accessed through an App on your smartphone." ~ Bill Peters - General Manager - AFLS
A Foreign Language Service has consistently upped its game to meet the industry demands. And it's done that once again with its Online Remote Video Interpreting app that makes things easier for clients in diverse areas. All businesses and organizations understand the importance of engaging their audience in meaningful dialogue and communication. But that becomes tricky as societies become increasingly diverse with video remote interpreting becoming so popular.
That's where the SpeakNOW™ remote audio & video interpretation platform launched by A Foreign Language Service comes into the picture making telephonic and video interpreting communications seamlessly. It is a new age, secure, cloud-based system designed to meet all interpretation demands instantly. The easy-to-use app is also a one-stop solution that makes scheduling, billing, and more possible for clients.
This Online Remote Audio Interpreting app is a cost-effective way to get past language barriers without any hassle quickly. Thanks to the app, clients can either call in or jump on the video and instantly connect with a translator. It saves the trouble of making an appointment, scheduling important calls depending on the available time slot, etc. They can get on the call and instantly pick a translator in the desired language.
While the modern app makes things highly convenient to clients, A Foreign Language Service also offers Healthcare Interpretation and Translation services for the niche area. The importance of conveying medical and telehealth communications effectively cannot be overemphasized. The company works with a strong, well-trained, and experienced team of professionals who can handle the task effortlessly.
That's also true for Legal Interpretation and Translation, another area A Foreign Language Service specializes in. It could be a business transaction, a boardroom deal, or a courtroom proceeding; its experts can cover every legal translation and interpretation in more than 400 different languages. It's interesting to note that these services are offered in the form of in-person interpretation and document translation.
A Foreign Language Service offers B2B, B2C, government services, educational support, and many other interpretation and translation services along with the newly launched time-efficient and cost-effective app. Those interested can know more about these services and their affordable plans at https://400languages.com/speaknow-remote-audio-video-interpreting/.
About A Foreign Language Service
The company providing professional interpretation and document translation contract services in more than 400 languages has made a name for itself having worked with top national organizations, government agencies, schools, and more.
Media Contact
A Foreign Language Service
Address: 40 W Baseline Rd. #204, Mesa, Arizona 85210
Phone: 844.813.4242
URL: https://400languages.com/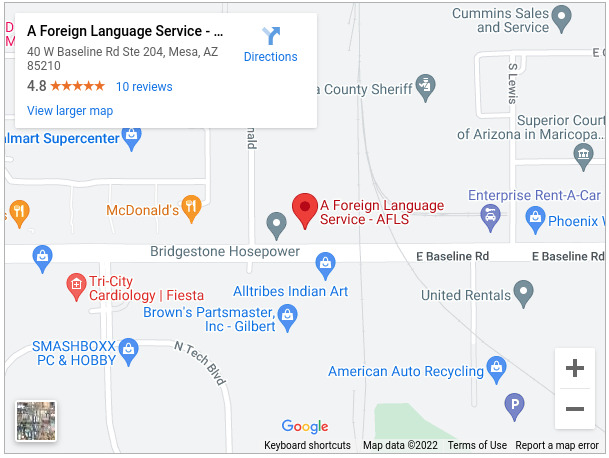 Newsroom: news.38digitalmarket.com
This content is published on behalf of the above source. Please contact them directly for any concern related to the above.