Sacred Raven Tattoo, the renowned name in the business, has offered Microblading Fayetteville NC services with an expert, to help clients get those defined and fuller eyebrows they want.
Sacred Raven Tattoo Shop has become the chosen ink and piercing tattoo parlor for people in Fayetteville, NC by offering them top-notch services that exceed their expectations. Interestingly, it is a rare kid-friendly tattoo parlor, which understands the needs of families. Moreover, it is a parlor where interested clients can walk in, and avoid weeks and months of agonizing over the decision.
But it's the impeccable services offered by Sacred Raven Tattoo that have won clients over. Its team of expert professionals has the experience to brainstorm with clients on the spot to come up with custom designs that they cherish forever. And now it has added the Microblading Eyebrows service to its repertoire for the benefit of clients, who want to make the most out of them.
Sacred Raven Tattoo
Those looking for Microblading Eyebrows in Fayetteville NC will be pleased to note that Anna McDowell, who handles the responsibility at Sacred Raven Tattoo is a Microblading specialist. She has been with the parlor for two years now and is renowned for providing services and resources for the microblading community. From microblading to ombre brows and combo brows, there are many versatile services one can find at the parlor.
"Microblading eyebrows is a semi-permanent technique that adds pigment to the skin beneath your natural brows, and helps shape, define and add fullness to your eyebrows," she explains. The treatment is gender-neutral and clients dealing with any issue, right from thin air to Alopecia can benefit from the service meant for designing and restoring eyebrows. Sacred Raven Tattoo Shop also offers them valuable information about the service to help them make a discerning choice.
Microblading is the procedure where small sets of needles make tiny cuts into the skin where pigments can be deposited to mimic individual hair strokes. Considered a more natural process, it is ideal for those with dry skin. But it's important to remember that it can be done only 4-5 times before it is recommended to move to ombre brows. Also known as powder brows they involve a tattoo machine to shade brows so that they resemble brows with makeup filling.
Blade and shade brows is another combination of the two techniques. It is often referred to as the ultimate brow treatment because it brings the best of both techniques and creates natural and defined eyebrows. Those interested in Microblading Fayetteville NC services can also know more about how long the treatment lasts, the costs involved, whether it is safe, the preparations required for the procedure, and more before making the decision.
For more information on microblading and other top-notch services offered by Sacred Raven Tattoo, one can visit https://www.sacredraventattoo.com/.
About Sacred Raven Tattoo
The family-friendly ink and piercing tattoo parlor in Fayetteville, NC has earned the trust of clients by offering top-notch services including creating custom tattoos that they cherish forever.
Media Contact
Sacred Raven Tattoo
Address: 4276 Legend Ave, Fayetteville, NC 28303
Phone: 910-745-9390
URL: https://www.sacredraventattoo.com/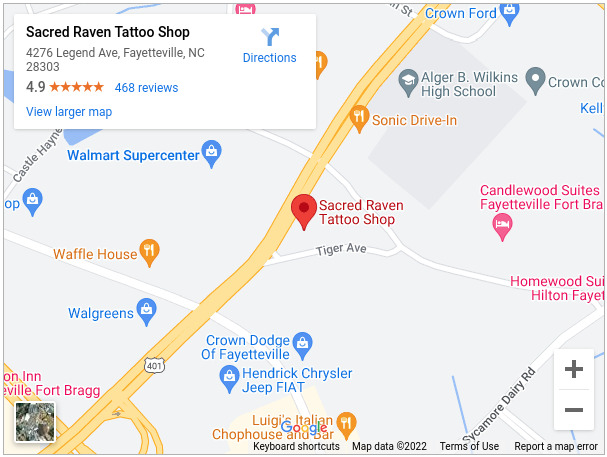 newsroom: news.38digitalmarket.com
This content is published on behalf of the above source. Please contact them directly for any concern related to the above.