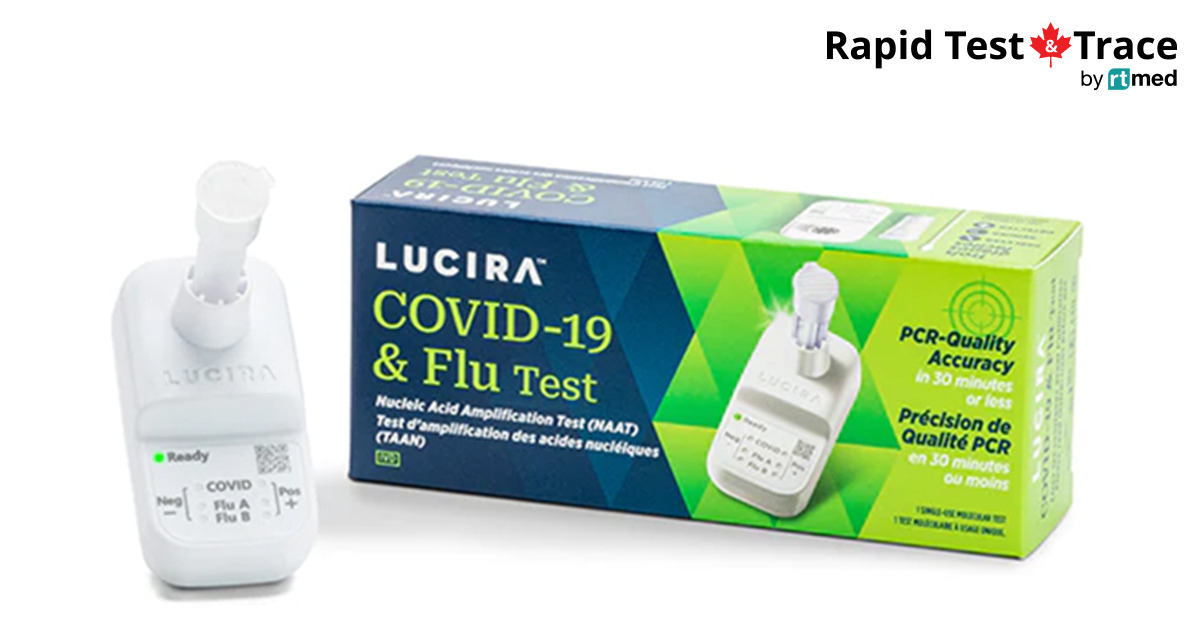 Rapid Test & Trace Canada announced the addition of Lucira's COVID-19 & Flu Test to its wide variety of rapid antigen testing devices.
"As one of the first retailers of rapid COVID tests in Canada, we're excited to continue to offer Canadians these important diagnostic tools," said Adam Singfield, Co-founder of Rapid Test & Trace Canada. "The Lucira test device is an innovative product that brings PCR-quality accuracy to a home self-test."
The Lucira COVID-19 & Flu combo test is a Health Canada-authorized device for self-testing and point-of-care testing. The single-use device relies on nucleic acid amplification technology (NAAT) to offer a 98.2% sensitivity (compared to highly sensitive PCR lab tests). The test's shallow nasal swab makes it easy for symptomatic patients to collect their own samples and get lab-like accuracy in 30 minutes or less. The test is authorized for home use on children ages 2 and up.
The Lucira rapid test device comes in a real-time RT-LAMP test that allows the user to interpret results easily and provides simultaneous rapid qualitative detection and differentiation of RNA from SARS-CoV-2, Influenza A and Influenza B virus. The test helps to accurately determine if a person is infectious with these viruses at that point in time. Anyone who obtains a positive result with the Lucira COVID-19 & Flu Test is recommended to seek follow-up care from their physician, or healthcare provider. Additional testing and public health reporting may be necessary, depending on their jurisdiction.
"Some feedback we've heard from customers is that they can't tell the difference between COVID and the flu based on the symptoms alone," said Singfield. "Fever, runny nose, shortness of breath, persistent coughing, etc. could all be a sign of both viruses. These tests help people determine if they have COVID-19, Flu A or Flu B, and then decide on the best course for treatment."
Another great feature of the Lucira COVID-19 & Flu combo test is that it detects all COVID-19 variants of concern and interest, including Omicron and all BA subvariants of concern. This is important for any rapid testing device as new SARS-CoV-2 strains continue to emerge.
The Lucira test works with the Luci Pass online application to provide a digitally verified record that people can share with healthcare providers, event organizers, and employers. These digital test results are widely accepted by travel authorities and a variety of safety-conscious institutions.
Considering that lab tests can be expensive and may not be a viable option for everyone, Lucira's COVID-19 & Flu Test is an excellent tool to help control the spread of infectious diseases. Rapid Test & Trace Canada currently offers the Lucira COVID-19 & Flu Test starting at $54.99/test.
About Rapid Test & Trace Canada - Rapid Test & Trace Canada is a North American online retailer of rapid testing devices, and related products and services for COVID-19. The company is part of the RT Medical family of brands, with Rapid Test & Trace USA and the Post-COVID Support Community as sister companies. RT Medical also retails dietary supplements and provides mobile nursing services.
Adam Singfield
Marketing & Communications Director
Contact Details:
Tel: 800-231-9794
Email: adam@rapidtesttrace.ca
Website: https://rapidtestandtrace.ca
Original Source of the original story >> Rapid Test & Trace Canada Adds Lucira COVID-19 & Flu Combo Tests