Sky Aviation Holding, a leading provider of aviation services is pleased to share that they have expanded their Fractional Aircraft Ownership Program. Traveling via a private jet offers many advantages, including landing closer to the destination, no stops, easy travel with pets, on-demand take-off, etc. However, owning a private jet is a highly expensive investment. The fact that the jet will not be used for most days can also be ignored. And hence, Sky Aviation Holdings came up with this exciting venture and a cost-effective solution for private jet ownership by multiple individuals or companies.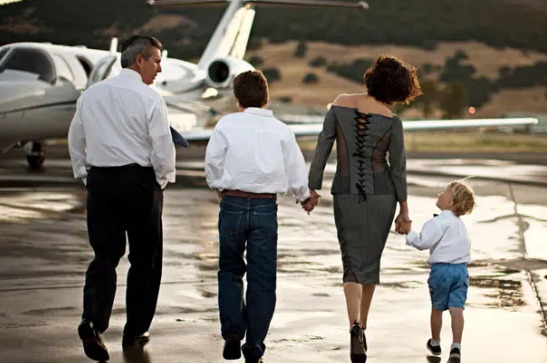 Sky Aviation Holdings - Fractional Ownership Program
Fractional Aircraft Ownership provides access to the most sophisticated SSUSA Fleet through the SkyShareUSA Fractional Ownership Program. Owning a private jet doesn't have to be expensive or a distant dream. The term here is pretty much straightforward and costs are transparent. The program eliminates repositioning and empty leg fees for passengers with a pre-planned travel itinerary. Sky Aviation Holdings also utilizes its certified maintenance facilities and the aim is to use in-house staff and services to minimize operating costs. Owning a jet can be complicated but not anymore as Skyshare USA is here to make it simple.
Fractional Ownership Program allows multiple individuals or companies to share the benefits of co-owning a jet and sharing the costs that come with such ownership. The jet is fractionally owned and each fractional owner is allocated a certain number of flight hours in a year and will be provided the only access to the jet. This means that the fractional owners pay for the jet only for the period it is being used thereby making it the most cost-effective solution. The SSUSA Fleet includes jets that can be customized as per the needs of the business or the number of flight hours needed.
Fractional Ownership Program is an excellent solution for those who want to enjoy private jet travel without colossal investment or incurring significant expenses that come with full ownership. In-house sky aircraft maintenance, repair, and operations ensure safe and reliable flights. The full range of service includes routine inspections, maintenance, repairs, overhauls and more; all of which take place in the spanning 60,000 Sq ft full-service hangar and repair station backed by state-of-the-art facilities and certified technicians. Fractional owners can also customize their SSUSA fleet with interior redesigns, exterior paint jobs, and other repairs and inspections. Owners can also prolong the life of their jet with TBO extension which can help prolong the engine's life up to 6000 hours, minimize downtime and save money.
There is a limited time to participate in 2022 pricing before prices increase. To learn more, visit https://skyaviationholdings.com/fractional-aircraft-ownership/
About Sky Aviation Holding
Sky Aviation Holding based at Pompano Beach, FL is a group of companies operating in Jet Sales & Acquisitions, Fractional Aircraft Ownership, Empty Leg Jet Charters, Aircraft Avionics, TBO Aircraft Extension, Private Aircraft Insurance and Aircraft Maintenance. The group specializes in Beechjets, Hawkers, Citations, Learjets and Challengers. Sky Aviation Holding is a one-stop shop for all aircraft needs.
Contact
Sky Aviation Holdings - Pompano Beach, FL
Phone: 754-800-6310
Email: Info@SkyAviationHoldings.com
Website: https://skyaviationholdings.com/
Source published by Submit Press Release >> Sky Aviation Holding Expands Fractional Aircraft Ownership Program